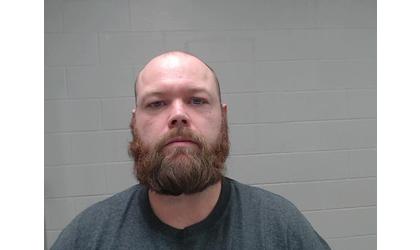 Dewayne Martin/Credit: Atchison Co Sheriff's Office
(KAIR)--The criminal charges against an Atchison man, accused of involvement in a rash of property crimes in rural Atchison County, continue to grow.
35-year-old Dewayne Martin was apprehended Monday in connection with the theft of three vehicles, along with a number of vehicle burglaries, and an attempted residential burglary.
Arrested Monday in connection with those crimes, Martin was again arrested midweek for a separate case.
Atchison Police Chief Mike Wilson told MSC News Martin was arrested Wednesday on an Atchison County District Court Warrant for fleeing and attempting to elude.
Those charges stem from the night of March 1 when Wilson said a police officer was checking on a complaint near 3rd and Atchison Streets involving a vehicle.
Wilson said the officer determined the tag on the vehicle was the wrong one, and a traffic stop was attempted.
Instead, Wilson said the driver, identified by another officer on the scene as Martin, drove off, fleeing from the officer by crossing into Missouri across the Amelia Earhart Memorial Bridge.
Martin remains in custody at the Atchison County Jail.
He's held on charges including aggravated burglary of an occupied dwelling in relation to the Atchison County case.
His bond is set at $25,000.
Two of the vehicles Martin is accused of stealing have been recovered, but a third is not yet located.
A second arrest in connection with the Atchison County case has also been made.