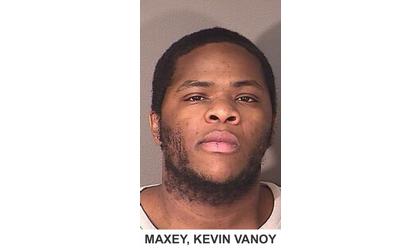 Kevin Maxey, Jr. (Credit: Atchison Police Department)
(KAIR)--An arrest warrant is issued for an Atchison man suspected of pulling the trigger during an early Sunday morning Atchison shooting that left a man injured.
Atchison Police Chief Mike Wilson Monday told MSC News the warrant was issued Sunday. "On Sunday afternoon, our detectives obtained an arrest warrant for 31-year-old Kevin V. Maxey, Jr., of Atchison. The [Police Department's] Special Response Team did execute a search warrant at the suspect's residence on Sunday evening, but he was not located, so the search for Kevin Maxey continues."
Maxey is wanted for attempted second degree murder.
Anyone who knows his whereabouts is urged to call police at 913-367-4323.
The shooting occurred shortly before 3:00 Sunday morning in a vacant lot in the 1100 block of North 8th Street where a group of around 20 people had gathered. "What we do know is that there were several people in this group that began an argument," Wilson told MSC News. "The victim was actually not part of that argument but was standing nearby. As the argument escalated, the suspect produced a handgun and fired several shots off that struck the victim."
The 42-year-old victim was shot twice and transported to a St. Joseph, Missouri hospital by Atchison County EMS for treatment.
As of early Monday afternoon, the man remained hospitalized.
Wilson said officers and detectives have worked around the clock since the time of the shooting, interviewing witnesses, gathering evidence, and conducting other investigative tasks.