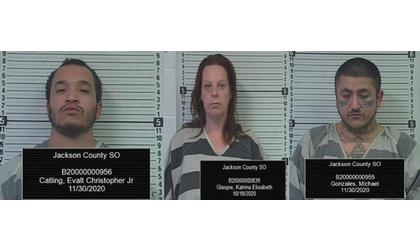 (KNZA)--A Monday morning pursuit in southern Jackson County sent three to jail.
According to a news release from Jackson County Sheriff Tim Morse, a deputy, around 9:00, spotted a car driving with an expired registration.
An attempted, unsuccessful traffic stop followed, with the suspect car fleeing northbound, near 142nd Road, where it "allegedly nearly struck a northbound truck near 150th Road. Failing to stop, the car then went west at 174th Road, and back to U.S. Highway 75, heading southbound. Exiting the highway at 46th Street, the release says the car then attempted to re-enter the highway on the southbound ramp, but came to a stop at that location.
With what Morse identifies as "a quantity of methamphetamine" seized from the car, the arrests were made, including 32-year-old Topeka resident Michael Gonzales, who was allegedly driving during the pursuit. He was arrested on charges including felony fleeing and eluding a law enforcement officer, reckless driving, and operating a motor vehicle without a driver's license.
A passenger in the front seat, 40-year-old Katrina Glaspie, of Manhattan, is identified in the release as the owner of the car. She was arrested on numerous counts of identity theft.
A back seat passenger, 24-year-old Evalt Catling, Jr., of Topeka, was arrested on charges of possession of methamphetamine, possession of marijuana, and possession of drug paraphernalia.
Following their arrests, all three were booked into the Jackson County Jail.
Jackson County Deputies were assisted by the Kansas Highway Patrol, the Shawnee County Sheriff's Office, and the Mayetta Police Department.