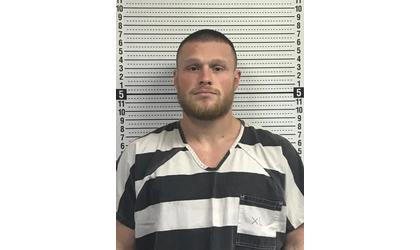 Jacob Ewing ( Credit: Jackson Co Sheriff's Office)
(KNZA)--10 years in prison.
That was the sentence handed down Friday to 26-year-old Jacob Ewing, of Holton, on two counts of aggravated sexual battery.
Jackson County Attorney Shawna Miller told MSC News that Ewing was sentenced to 120 months ( 10 years ) on one count and to 32 months on the other count, with both to run at the same time. He was given no jail time credit.
Miller said Ewing will be required to register as a sex offender for the rest of his life once he is released from prison.
Ewing, who was facing a retrial on sexual assault charges, entered an Alford plea to the reduced charges last month. In an Alford plea, a defendant does not admit to the crime but agrees that the evidence will likely result in a guilt verdict in trial.
As part of the plea deal, both sides agreed to the 10-year sentence.
Ewing was initially sentenced to more than 27 years in prison following his 2017 convictions for raping and sodomizing one woman in 2016 and raping and committing two counts of aggravated criminal sodomy against another woman in 2014.
But the Kansas Court of Appeals threw out those convictions in 2019 and ordered a new trial, citing errors by the prosecutor and court.