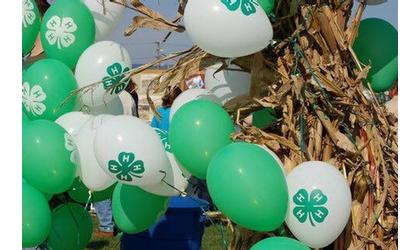 (KLZA)--The Richardson County 4-h / FFA Junior Fair will begin Monday, July 26 in Humboldt and continue with events through Sunday, August 1.
Local 4-H youth and FFA members will be exhibiting projects throughout the week.
The 4-H building will open at 8:00 a.m. Monday so displays can be set up.
Events on Monday include Fashion Show Judging at 9 a.m. The Favorite Foods Revue Contest at 11. The Companion Animal Contest at 2:00 p.m.
Static Exhibit Entry will be from 4 – 8:00 p.m.
Tuesday, July 27 will be the Static Exhibit Judging at 9:00 a.m.
Wednesday, July 28 events include the Horse Show at 9:00 a.m.; The Meat Goat Show at 4:00 p.m. followed by the Market Goat Show and the Sheep Show.
Thursday, July 29, the Poultry Show is at 9:00 a.m.; the Rabbit Show will begin at 10:30.
Friday, July 30 the Swine Show starts at 9:0 a.m., at the same time the Interview Judging Contest will be going on. The Diar Goat Show will be at 1:00 p.m. followed by the Dairy Cattle Show. The Pedal Tractor Pull is scheduled for 3:30 p.m. along with the Riding Mower Contest, the Tractor Operator Contest and the ATV Contest. The Clover Kid Showcase begins at 4:30 p.m. followed by the Livestock Judging Contest at 6:30 p.m.
Saturday, July 31 the Ag Society breakfast will be held from 7 – 8:00 a.m. The Beef Show will be at 9:00 a.m. and the Round Robin Showmanship competition will be at 2:00 p.m. The 4-H Council Bar-b-cue will be Saturday from 5:30 – 7:00 p.m. followed by the Livestock Support Auciton at 7:30 p.m.
Sunday, August 1 the Public Fashion Show will be at 3:00 p.m. followed by the Awards ceremony.