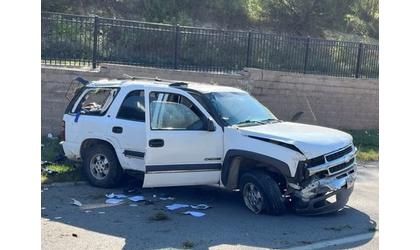 Credit: Atchison Police
(KAIR)--One person is injured in a late Thursday morning Atchison crash that also led to a collision for a responding police officer.
According to a release from Atchison Police Chief Mike Wilson, officers responded to the 1200 block of South U.S. Highway 73, around 10:10 in the morning, where a Chevrolet Tahoe had crashed.
Wilson, in the release, says the driver, 32-year-old Atchison resident Alexandria Woessner, had been northbound on the highway when the Tahoe struck the curb on the west side of the northbound lanes. Woessner overcorrected, sending the vehicle off the roadway on the east side of the northbound lanes, where it struck a retaining wall that runs parallel to the highway. The impact caused the Tahoe to overturn once, before landing on its wheels.
Woessner, the lone occupant of the vehicle, was transported by Atchison County EMS to Mosaic Life Care in Saint Joseph, Missouri for treatment of her injuries.
According to Wilson, a police vehicle was enroute to the crash scene, westbound on U.S, Highway 59, and turning south onto Hwy 73, when it collided, in the intersection, with a vehicle northbound on 73.
No injuries were incurred in that crash.
The Kansas Highway Patrol investigated.