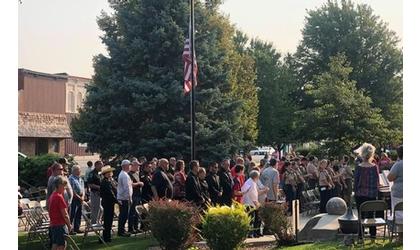 (KNZA)--The Brown County Liberty Alliance sponsored a special ceremony Saturday morning in Hiawatha in remembrance of the 20th anniversary of 9/11 and to honor local first responders.
Stuart Aller emceed the event, which was held on the north side of the Brown County Courthouse. He talked about the first responders who gave their lives to save those in need when terrorists attacked the World Trade Center.
Also speaking was Father Dan Gardner of St Ann's and St Leo's Catholic Churches.
Several local first response agencies were on hand for the event, which included the sounding of sirens and flashing of emergency vehicle lights at the time when the planes first hit the Twin Towers.
Aller brought forth representatives from all the agencies and a total of 275 names were read of local first responders.
Spencer Madison and Sarah Kleopfer sang patriotic songs and the audience joined in to close the ceremony.
Following the ceremony, those attending could view emergency response vehicles on display on the east side of the courthouse.
A 45-minute virtual tour of the New York City World Trade Center Memorial and Museum was shown at the Arrow Twin Theatre, with a special private showing for first responders and their guests. Several showings were then held for the public.