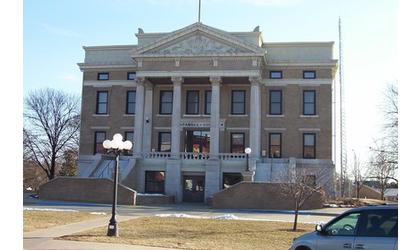 Pawnee County Courthouse
(KLZA)-- Following public hearings drawing no comment on the proposed Pawnee County budget for the next fiscal year, Pawnee County Commissions adopted a budget that will require a property tax levy of 29.4918 cents per $100 of assessed valuation during the September 7 meeting. That is an increase of 3.5-cents from last year.
The total property tax request will be $2,317,470 an increase of 2.43 percent.
The total operating budget of $9,596,487 which is a 10.49 percent increase from last year.
The Pawnee County valuation increased by $18.6-million to $785,802,348.
In other action during the meeting, Board members approved a letter of engagement with Lutz and Company P.C. To perform consulting services in regards to the Coronavirus State and Local Fiscal Recovery Funds as part of the American Rescue Plan Act.