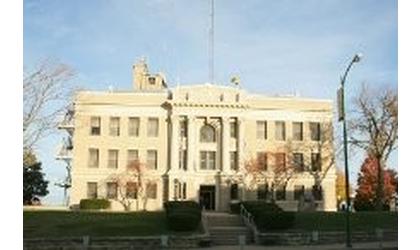 Richardson County Courthouse
(KLZA)-- Richardson County Commissioners voted that an emergency exists concerning the exterior of the north side of the Courthouse in Falls City.
The Board approved having Andrew Tuckpointing of Clarinda, Iowa make repairs in an effort to stop further water damage to the interior of the building.
The quote from the company for the repair work was $12,590.
Commissioners also approved an agreement with Region V Systems for Emergency Protective Care Services for the next year at a cost of $214 per day.
The Board also reviewed bids received for the construction of a County Shop at Rulo. Following the discussion, the Board voted to not accept the bids and will consider rebidding the project at a later date.
In other action a public hearing was scheduled for Tuesday, July 19 at 9:30 a.m. to receive public input on the proposed closing 660 Avenue between 711 Road and 712 Trail.